FREE SHIPPING ON ALL ORDERS OVER $100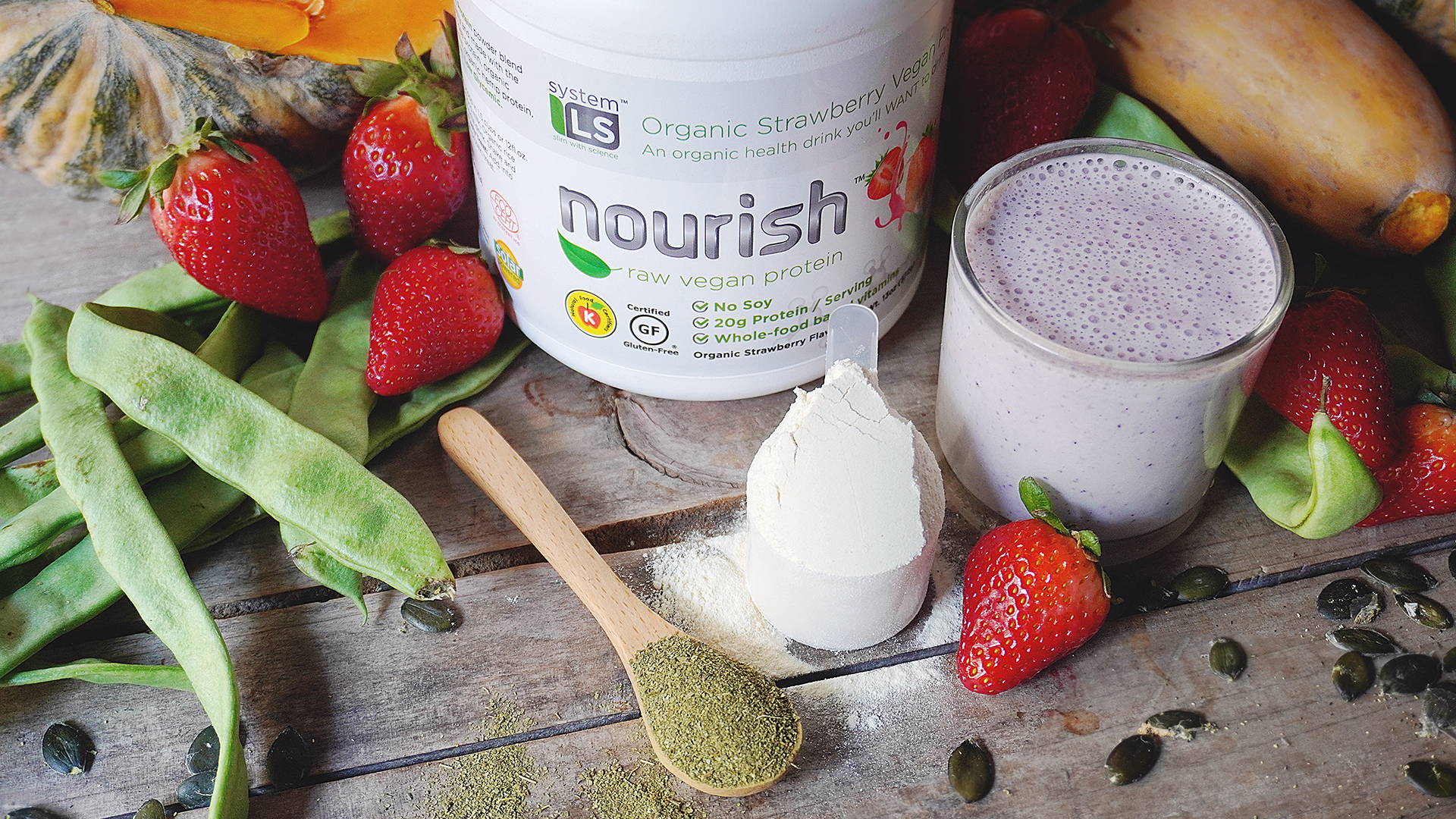 Meet the new vegan, plant based organic protein formula
for reducing cravings and controlling hunger.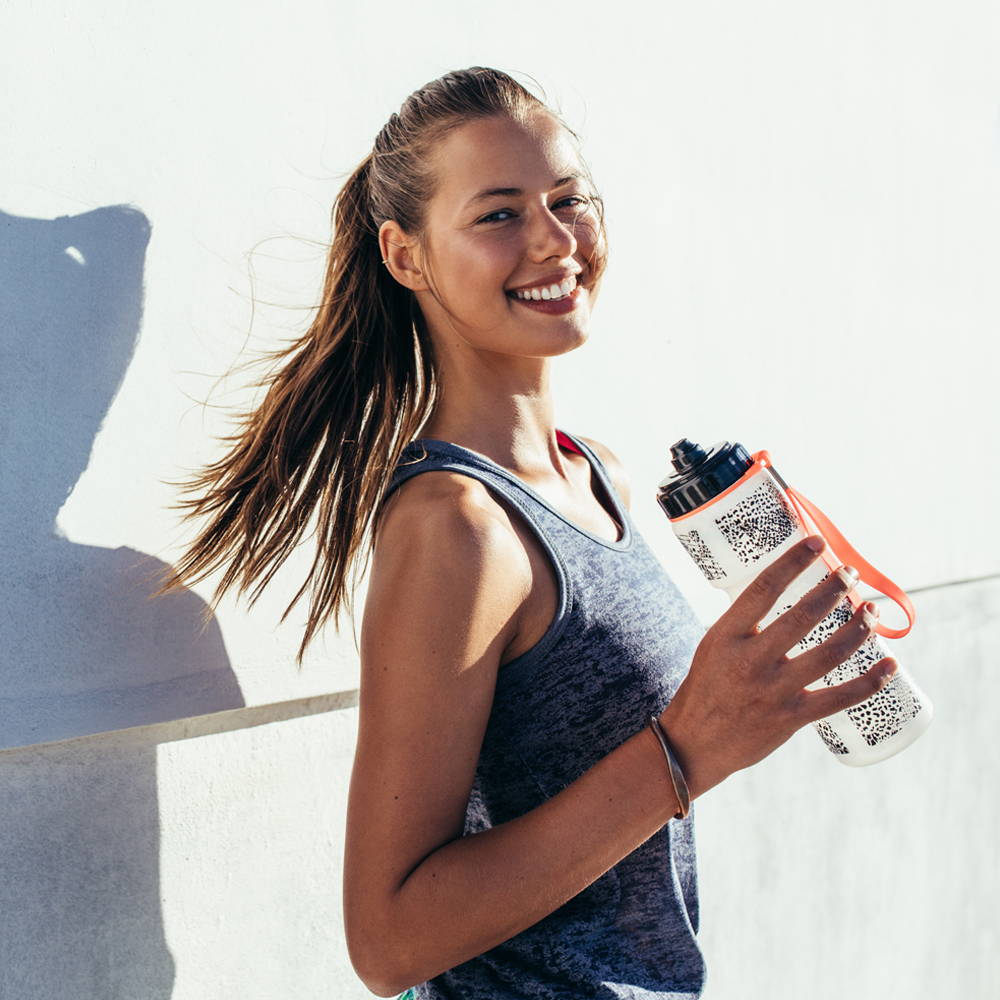 Proteins are large, complex molecules that play many critical roles in the body. They do most of the work in cells and are required for the structure, function, and regulation of the body's tissues and organs.
Proteins are found in nearly every body part including muscles, organs, bones, skin, hair and nails
Next to water, protein is the most plentiful substance in our bodies
Proteins in our body are constantly being broken down and replaced as they are used.
Do Vegans need to take a protein supplement?
Everyone should pay attention to their protein intake as many people don't get enough from their diet alone.
Protein plays a key role in our bodies health and performance including muscle recovery and maintenance.
Do Vegans need to take a protein supplement?


Short answer, no. Everyone could potentially get enough protein from their diets.
But getting the right amount and quality of protein, without a caloric surplus, is really challenging for everyone.
There are many things that can make it more challenging to maintain a balanced diet that provides us with the right amount of protein: active lifestyle, work, not eating at home, being on a weight loss program. And being Vegan just makes it more challenging as it limits your choices and requires extra planning.
That is why our Nourish Raw shake can be an excellent option to complement your diet and have 20g of complete plant based protein on the go, anytime anywhere!
Completely Nourish yourself with a harmonious combination
of nutrients and a fuel-injection of superfood power:
The Science Behind Nourish RAW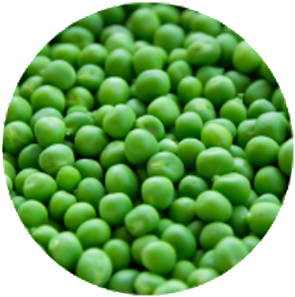 Pea protein powder is a high-quality, easily digested protein source made from yellow peas. It's rich in iron, arginine and branched-chain amino acids and offers benefits like improved muscle growth, feelings of fullness and heart health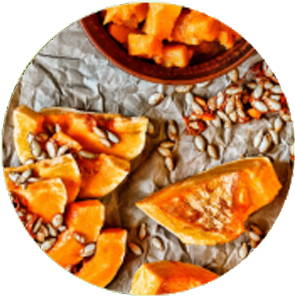 Pumpkin protein is a non-dairy, vegan friendly, non-legume, nut-free, easy to digest source of protein. Pumpkin protein powder is obtained during the cold-processed extraction of the pumpkin seed oil. We use pumpkin protein because it enhances the amino acid profile of our products.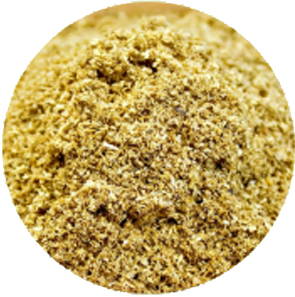 Hemp is rich in omega 3 and omega 6 essential fatty acids that promote energy production and strengthen the immune system, as well as phytosterols which are cholesterol fighting compounds and contains easily digested proteins such as albumin and edestin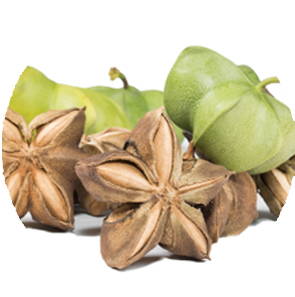 This single ingredient powder is an incredible plant-based source of organic protein, all naturally derived from Sacha Inchi: a super seed from the rainforest! With 20g of protein in one serving, this cold pressed, gelatinized powder is a digestible powerhouse of muscle building amino acids.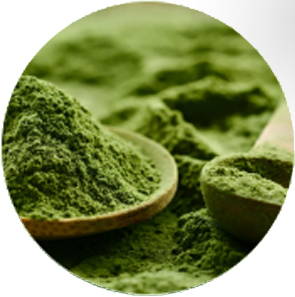 Chlorella's impressive nutritional profile has led experts to call it a "super food." It provides key health-boosting micronutrients including: Vitamin B12, Vitamin C, Iron, Omega 3s and potent antioxidants. Chlorella provides immune support.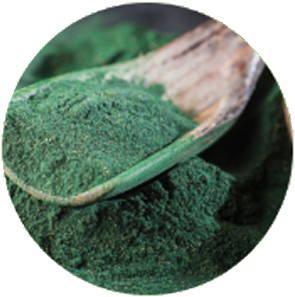 Spirulina is known as a nutrient-dense food as it is packed full of vitamins, including vitamins A, C, E and B vitamins, as well as a whole host of minerals such as calcium, magnesium, zinc and selenium. In particular, vitamin C and selenium are both antioxidants and help protect our cells and tissues from damage.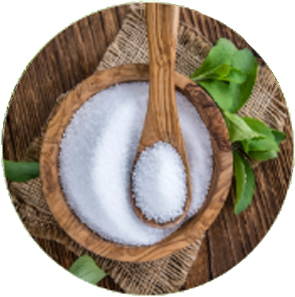 Our products are natuarlly flavored and sweetened. We use organic Stevia to keep our products delicious without compromising on quality.
20g of Protein per serving

Whole-food based vitamins

All natural, organic ingredients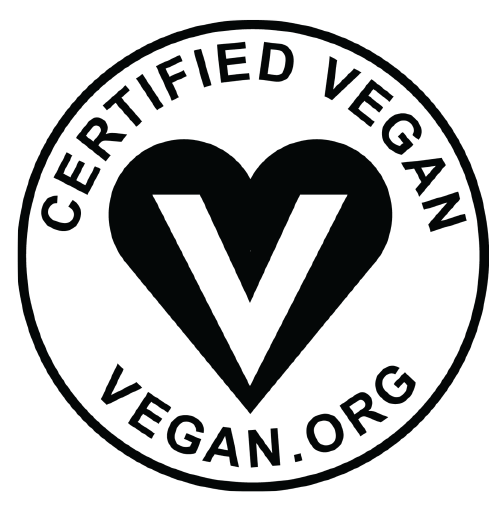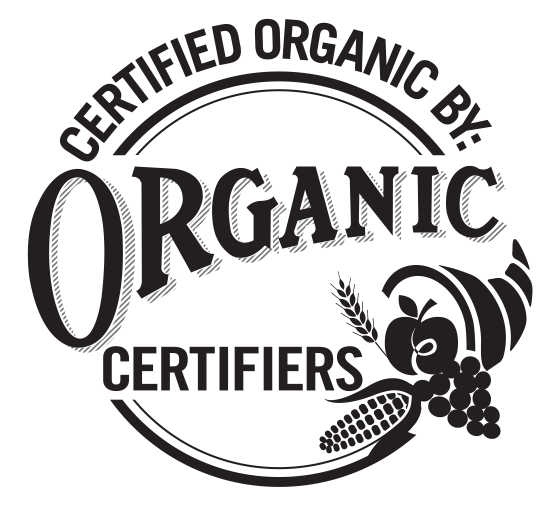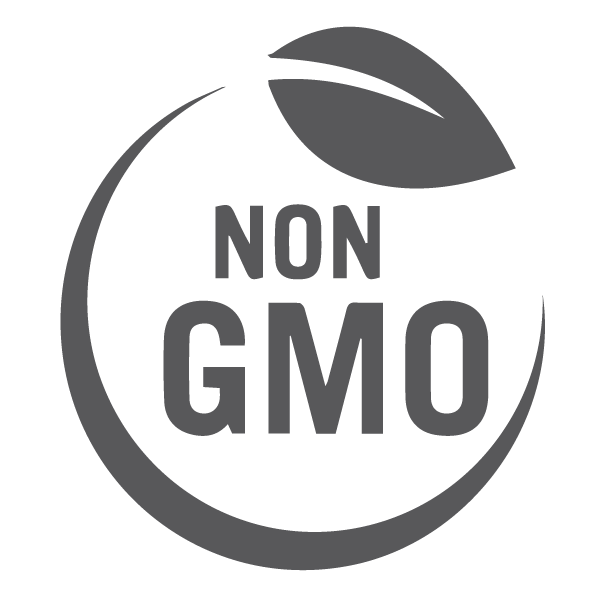 Try SystemLS Nourish RAW Vegan Protein™ and Start Feeling Great Today!
SystemLS™ Nourish RAW Vegan Protein powder blend tastes great, digests easily and is made with the finest blend of organic pea protein, organic spirulina, organic chlorella, organic hemp protein, organic pumpkin protein.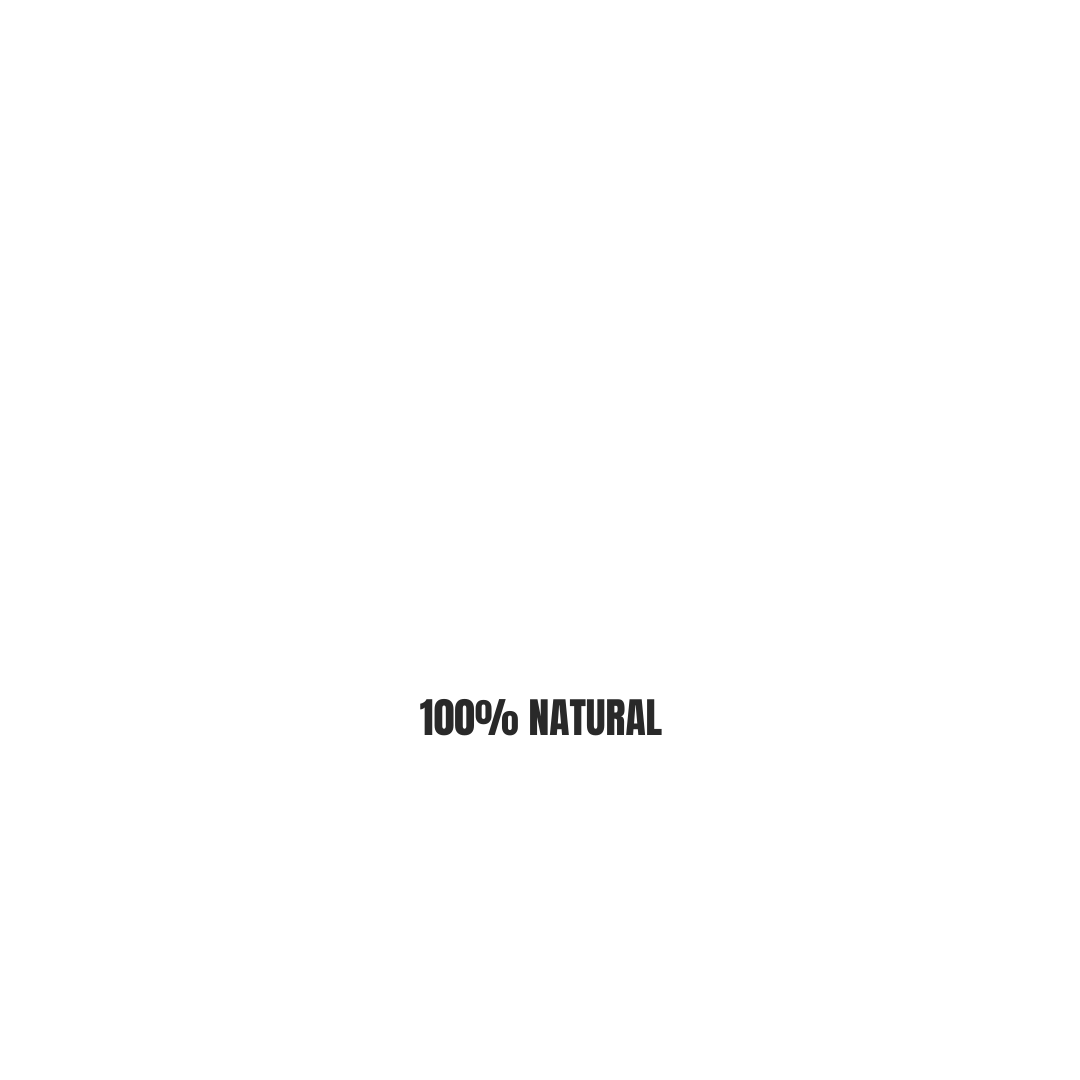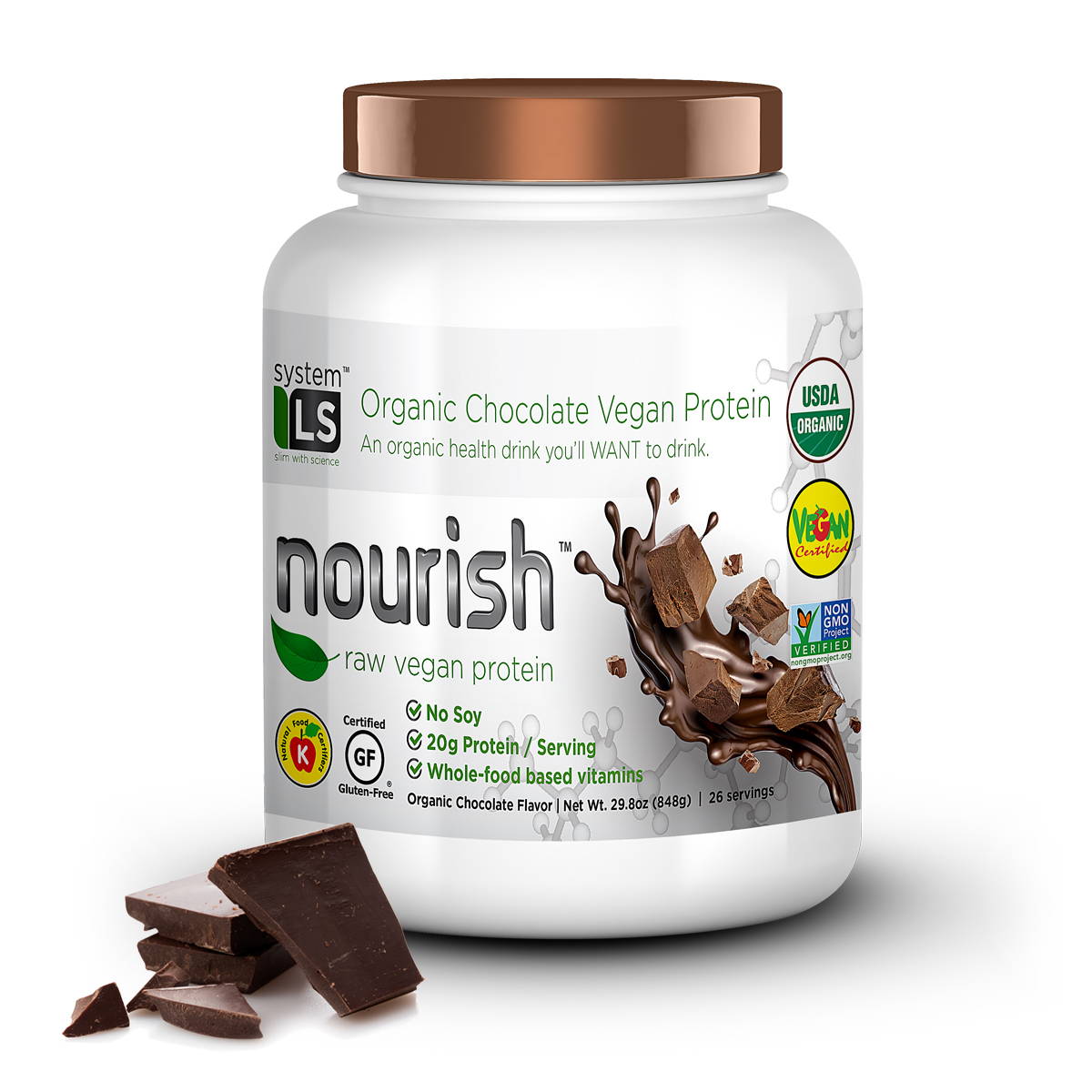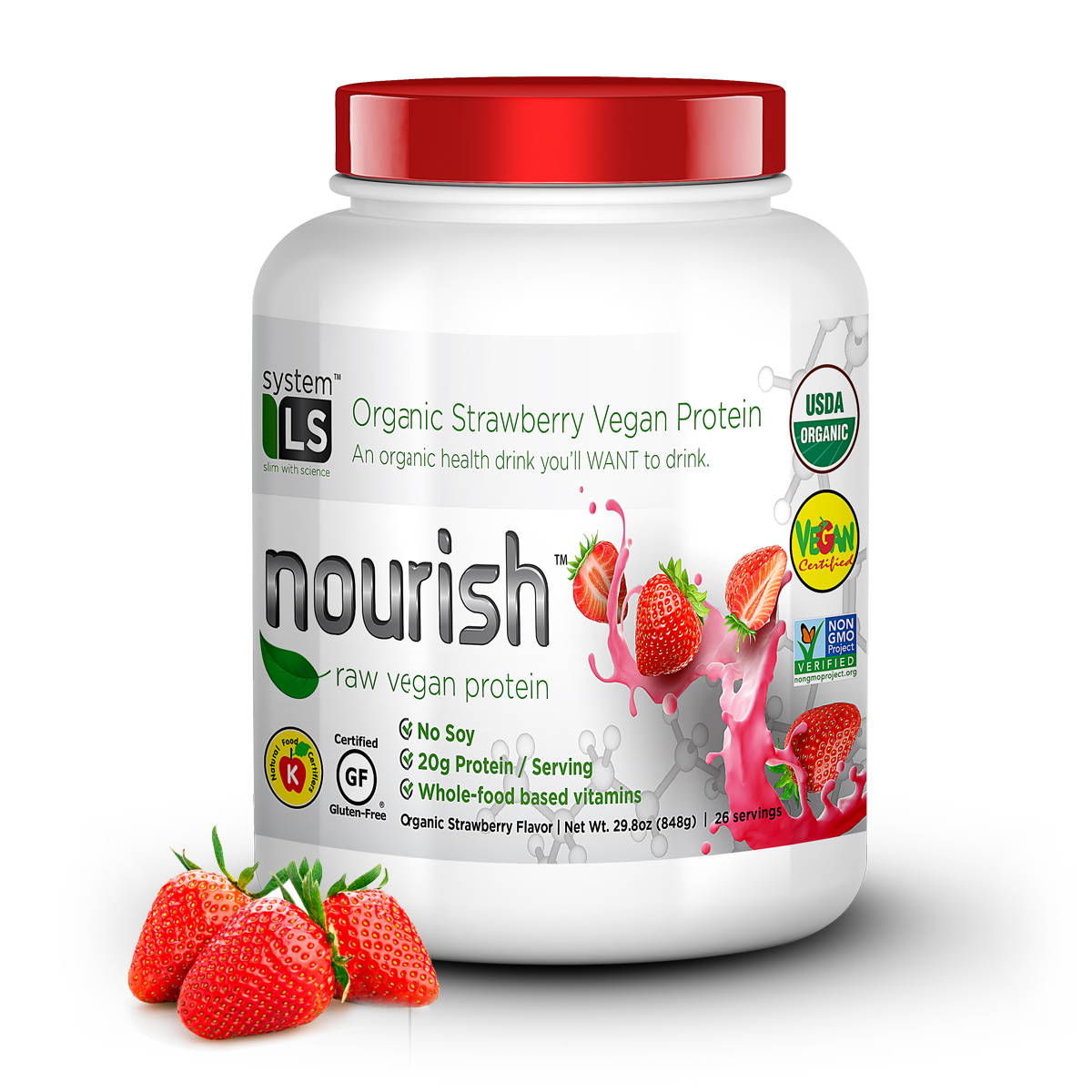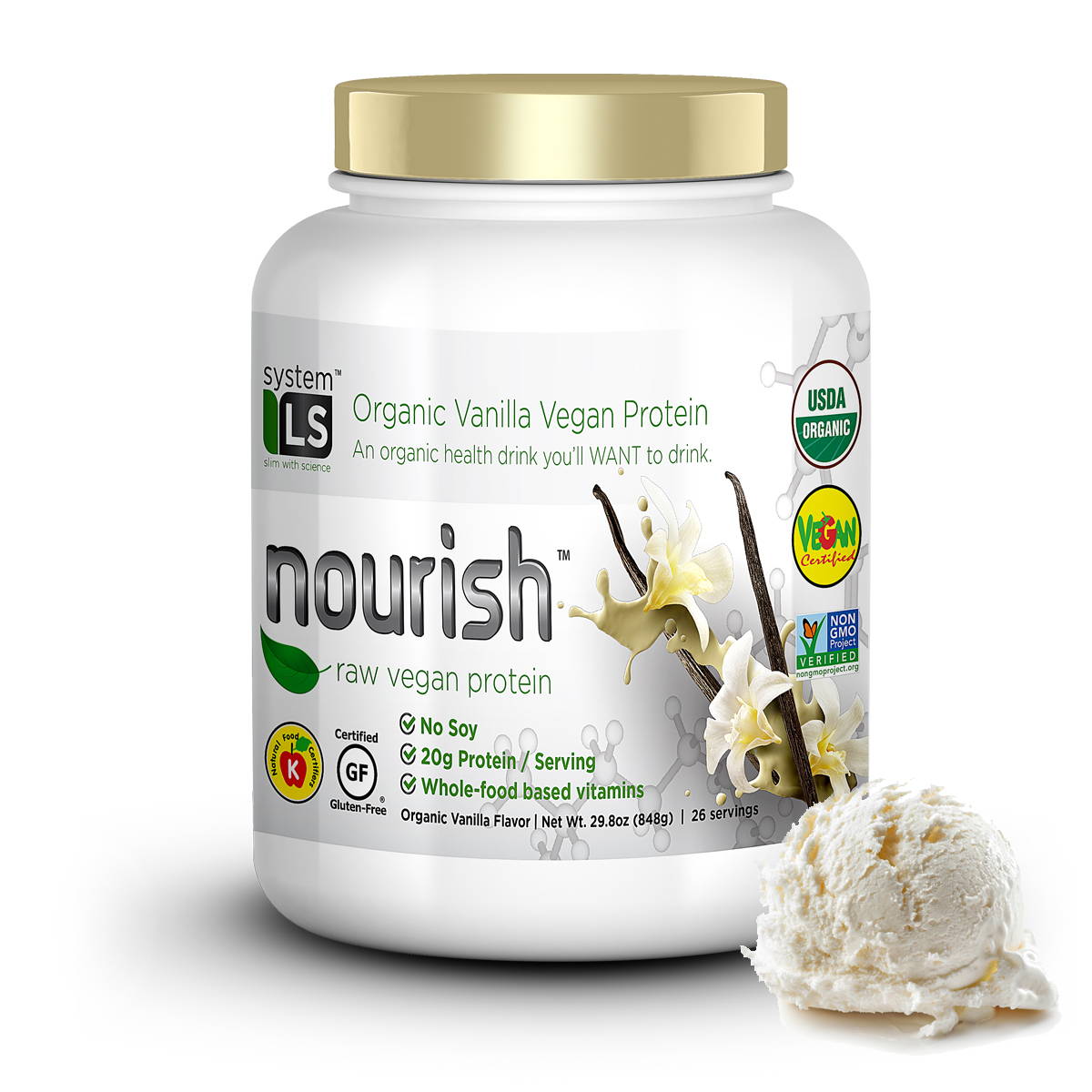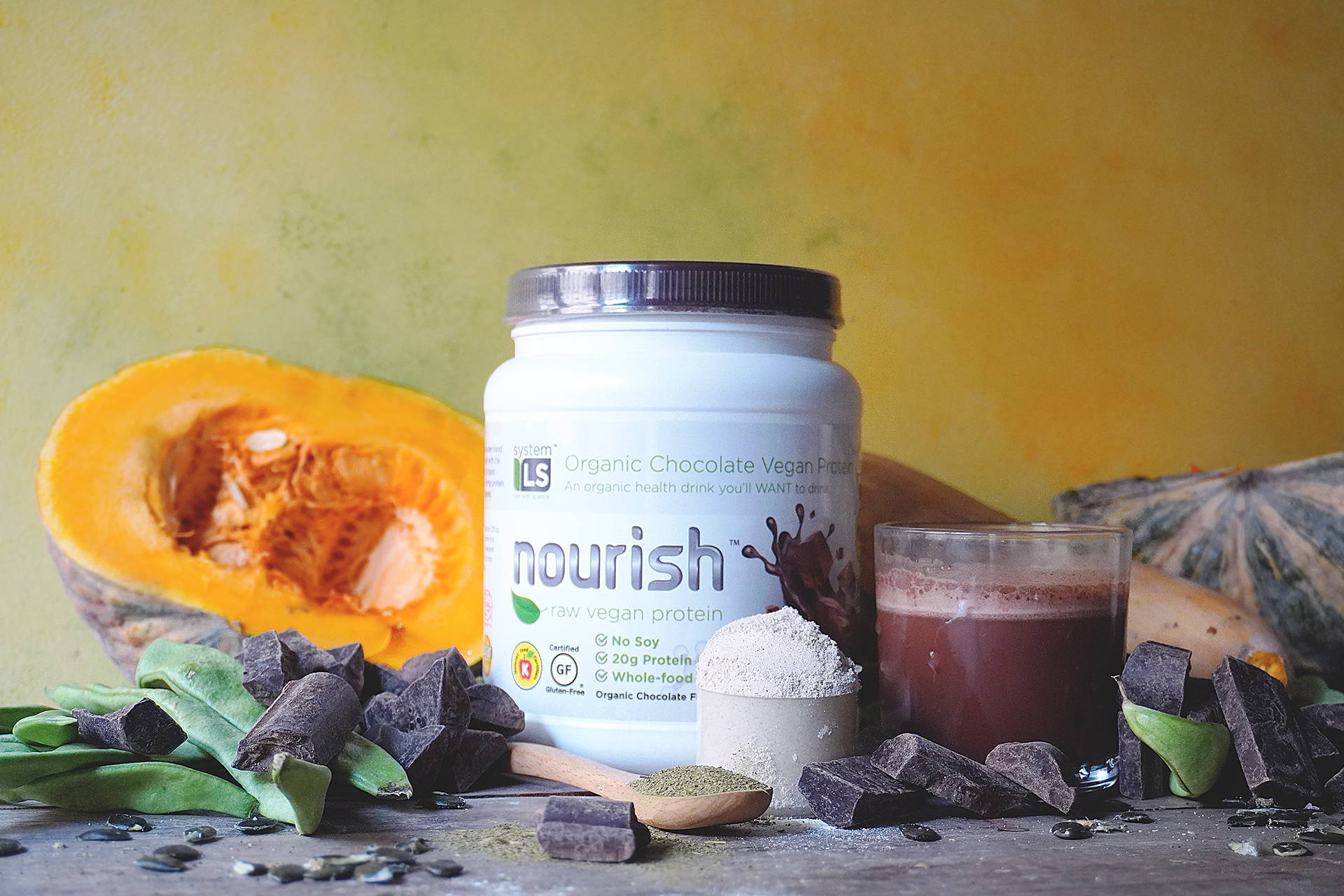 Learn what our happy and healthy customers have to say: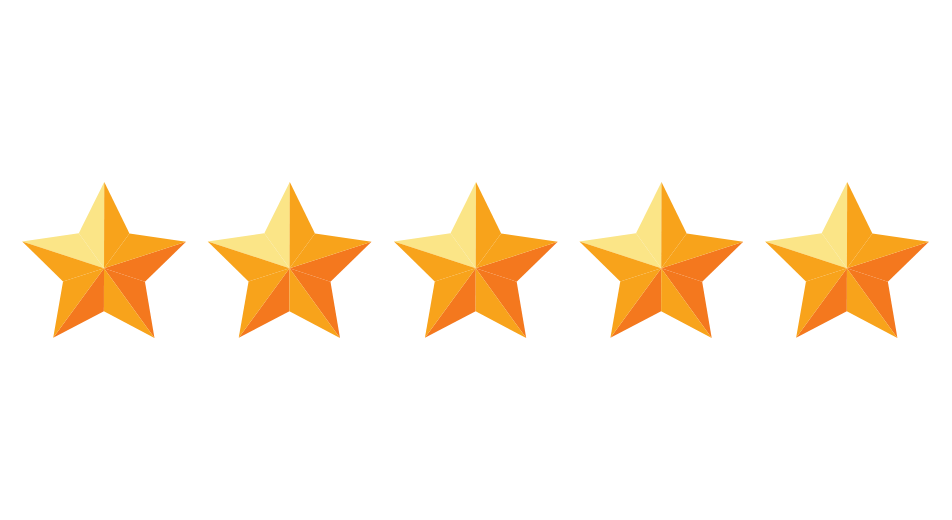 Mike | posted December 17, 2018
I was expecting this product to taste like grass but to my surprise it actually tastes good. It's a quick easy way to get the much need nutrients from the greens I'm not a big fan of eating. I've only been using it a week so I can't honestly give a review on the health benefits I'm getting from using the product. I am very pleased with the seller of this product . I actually got the product a day earlier than expected.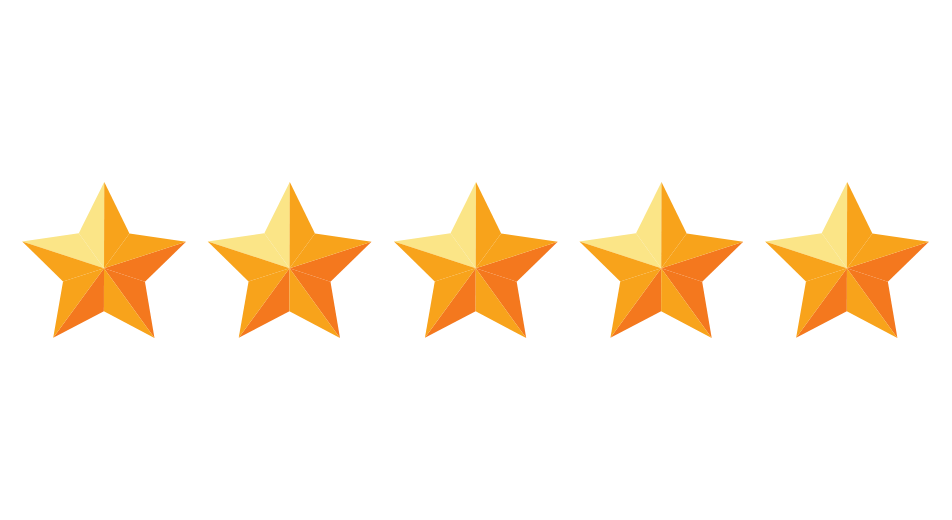 Dagreat8 | posted August 27, 2018
Heard about this product from a crossfit buddy of mine so I thought I give it a try. I do ketogenic intermittent fasting so it's hard for me to get all my nutrition in with the few meals I eat. I work out 2hrs a day so the natural boost I get from this stuff is awesome. And even though it looks super healthy, it actually tastes pretty good....not bad at all. I do feel a boost of energy after taking it and I generally felt more focused and alert. Great stuff...will definitely continue using SystemLS.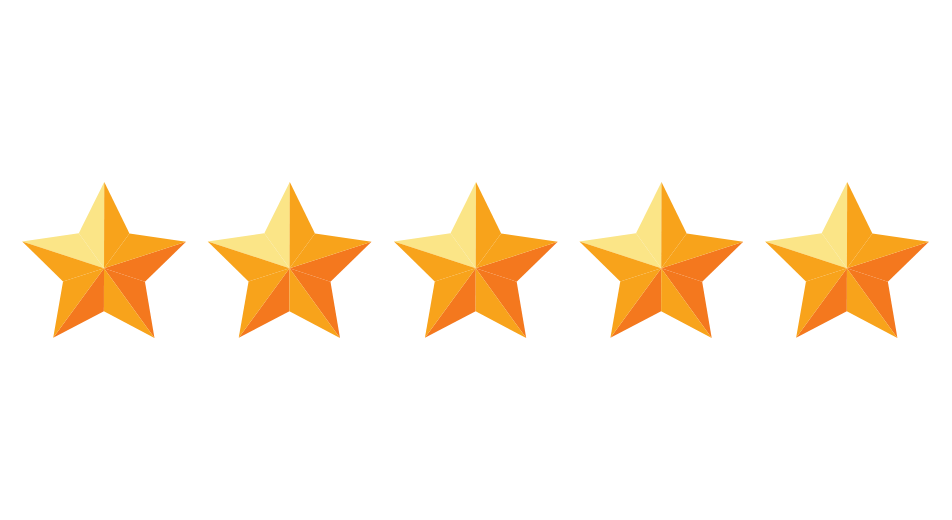 Carolina John | posted July 23, 2019
This product is incredible. I have bought a lot of powdered greens over the years, and this is the first time I can absolutely say I will buy it again. The Super Greens are great, they give me lots of nice energy and I feel really good after drinking it.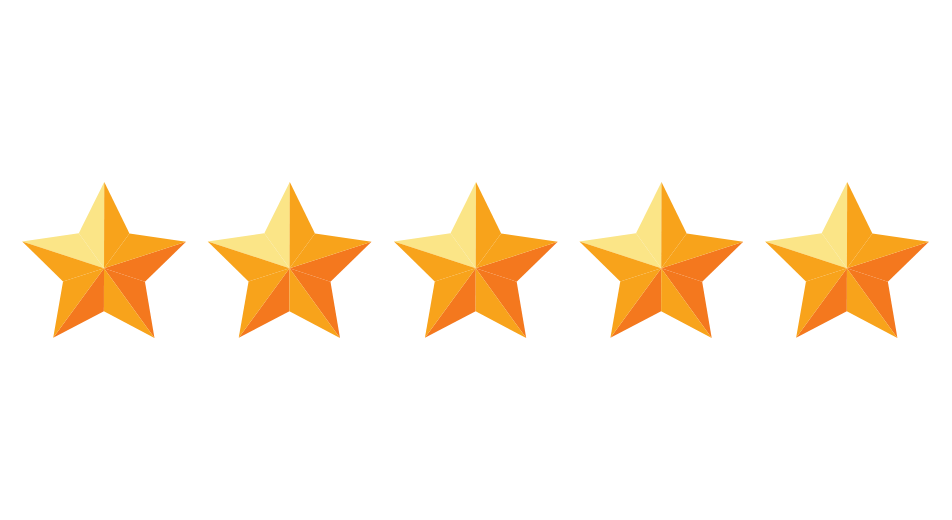 Dartanion C | posted September 12, 2018
For me there is no going back. First and foremost it really tastes great. That is a huge factor for me when using a product. I have noticed that I have increased energy throughout the day. I am also not as drained physically or mentally when I leave the office. Great product!!!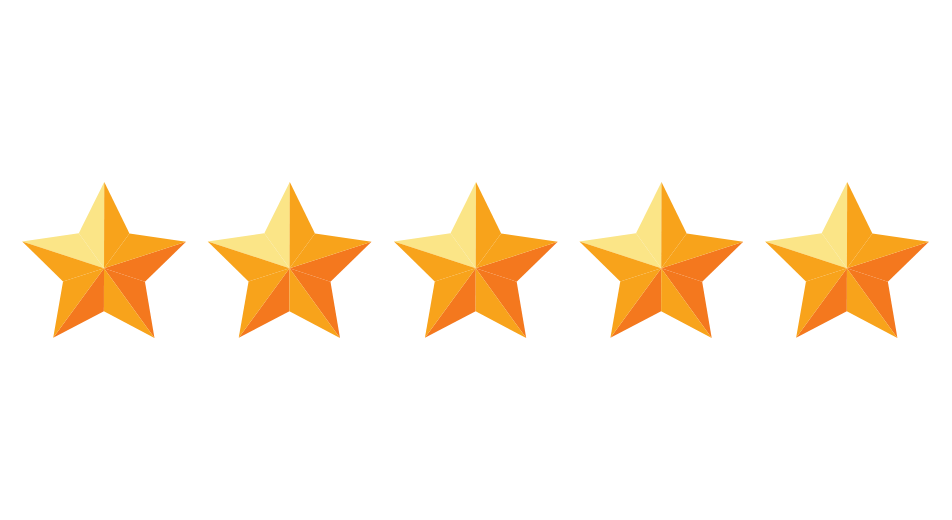 Dj | posted February 12, 2019
I like the price point for this product...when it seems to contain the same level nutritional value as items costing significantly more. Plus, it tastes good!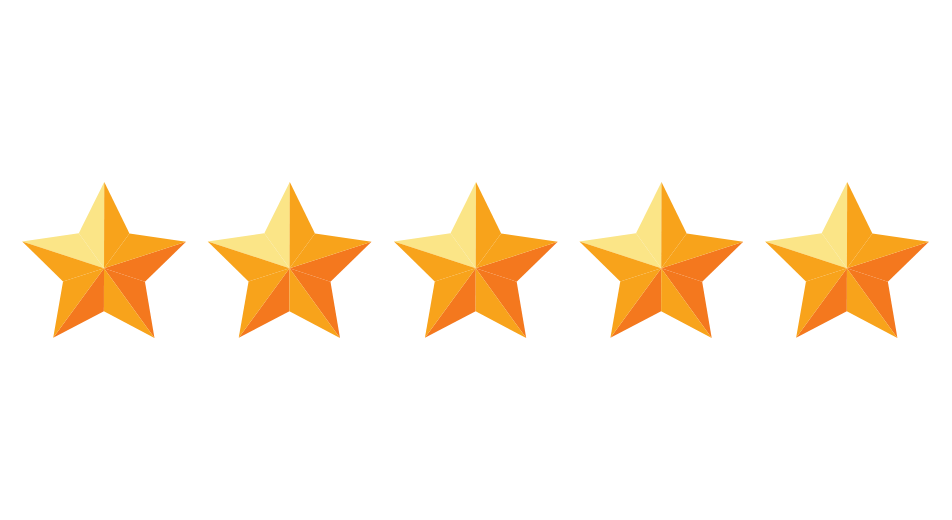 BigChrisNC | posted May 7, 2019
Taste 10/10. The price is very reasonable. With most green food supplements I have to mix with almond milk and whey protein to get rid of the bitter taste. I can mix this supplement with water and keep it moving. I let my coworkers try it and they loved it. You should give this product a try!

Real Food. Real Science. Real Results.
Hi, I'm Leisa St Ledger - creator of System LS products, wife, mother of three, researcher, health advocate and lover of life!
I know exactly what it feels like to waste time and energy searching for supplements, shakes and meal replacements that don't seem to work.
There are so many products stuffed with cheap low-quality ingredients, fillers, additives, chemicals, artificial this and that, all fooling us into thinking we're getting loads of value.
Not to mention, the exaggeration, hype and a lot of health claims without any scientific evidence.
That's what inspired the creation of Nourish RAW.
Imagine having a meal replacement that tastes like your favorite creamy milkshake.
A nutrition-packed shake that you look forward to drinking each and every day. A shake you can trust to provide real health benefits and total nourishment for your body.

Nourish has no secrets.

System LS has one simple philosophy: If it's not backed by scientifically proven health benefits, it's not included in our product.